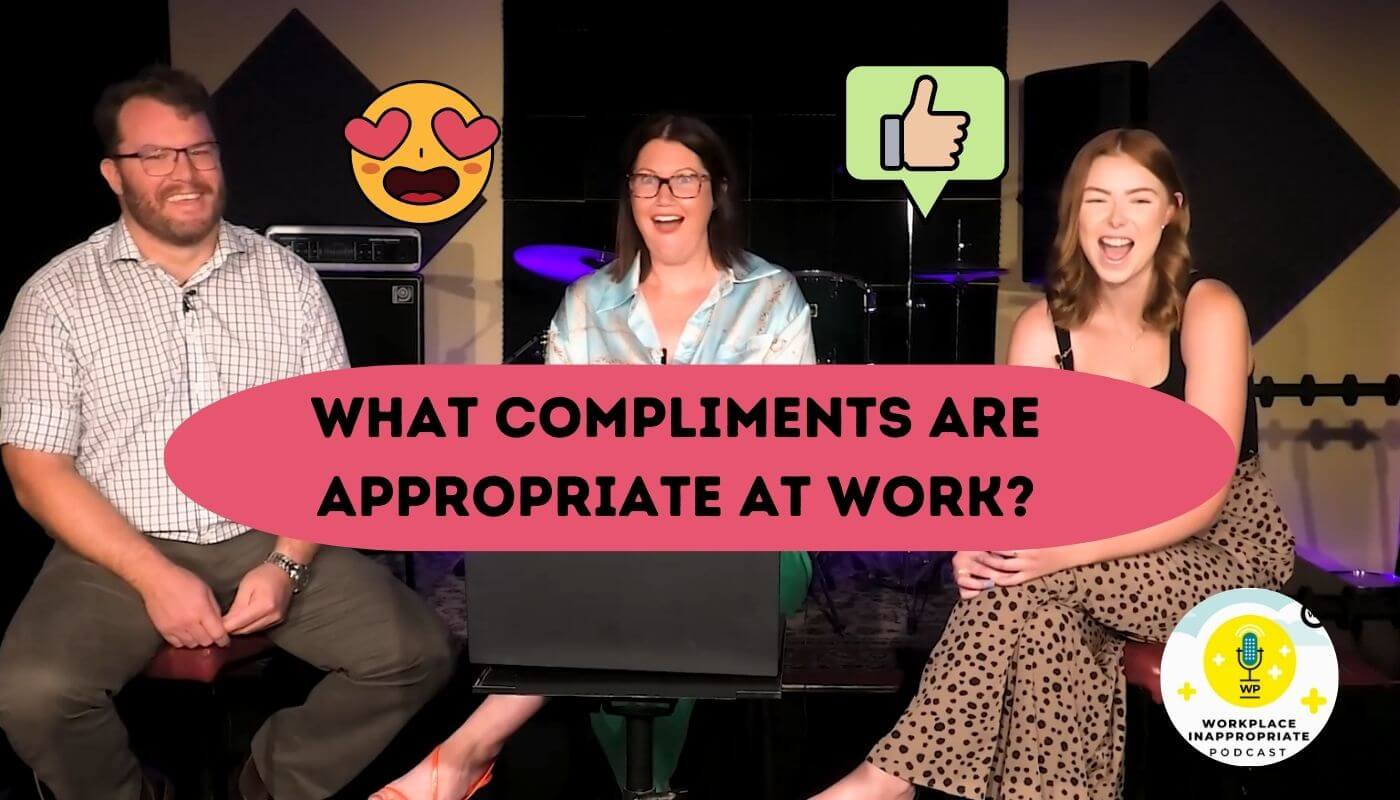 What Compliments are Appropriate at Work?
What could be bad about giving a compliment in the workplace, right? Actually, a lot! Today on Workplace Inappropriate, Kearin, Kate, and Average Joe talk about the do's and don'ts of workplace compliments and the fine line between compliments and sexual harassment at work.
What Compliments are appropriate at work?
Why should we care what kinds of compliments are appropriate for work? Well, most people wouldn't want a coworker to comment on their weight, point out how great their bum looks in a pencil skirt, or consistently flirt with them when they don't want to be flirted with… right? There are many ways you can praise a coworker, keep it relevant to work, and avoid a sexual harassment investigation, so let's explore them!
In this episode, they cover:
Why you should be cautious about giving compliments to coworkers.

How compliments can be easily misconstrued as inappropriate.

Examples of appropriate workplace compliments/praise/recognition.

Examples of inappropriate workplace comments.

Is it okay to flirt with coworkers?

The difference between compliments and sexual harassment.

How to react appropriately to compliments at work, even if you don't want them.

Compliments you definitely shouldn't give at work.
Let us know… What's the best/work compliment you've been given at work? Has a workplace compliment ever gone wrong? We want to hear from you! DM us on Instagram!
Appropriate Quotes
"Workplace compliments should be about work, not about the person. If you are going to step into the very dangerous territory of giving someone a workplace compliment because you do actually have an attraction to somebody, then be very careful to observe the reaction that you get." – Kearin
"If you feel valued at work, that's an important thing and the way you do that is by giving constructive feedback, good compliments about your work, not about your appearance or your attire." – Average Joe
"Commenting on someone's weight or anything like that is just a no-go." – Kate
Would you like to implement an end-of-year ritual to process the year that was and focus your team to the future?
We can help.
Contact me to discuss ideas that will be suitable for your business.
Kearin Lowry
Meliorist & Director