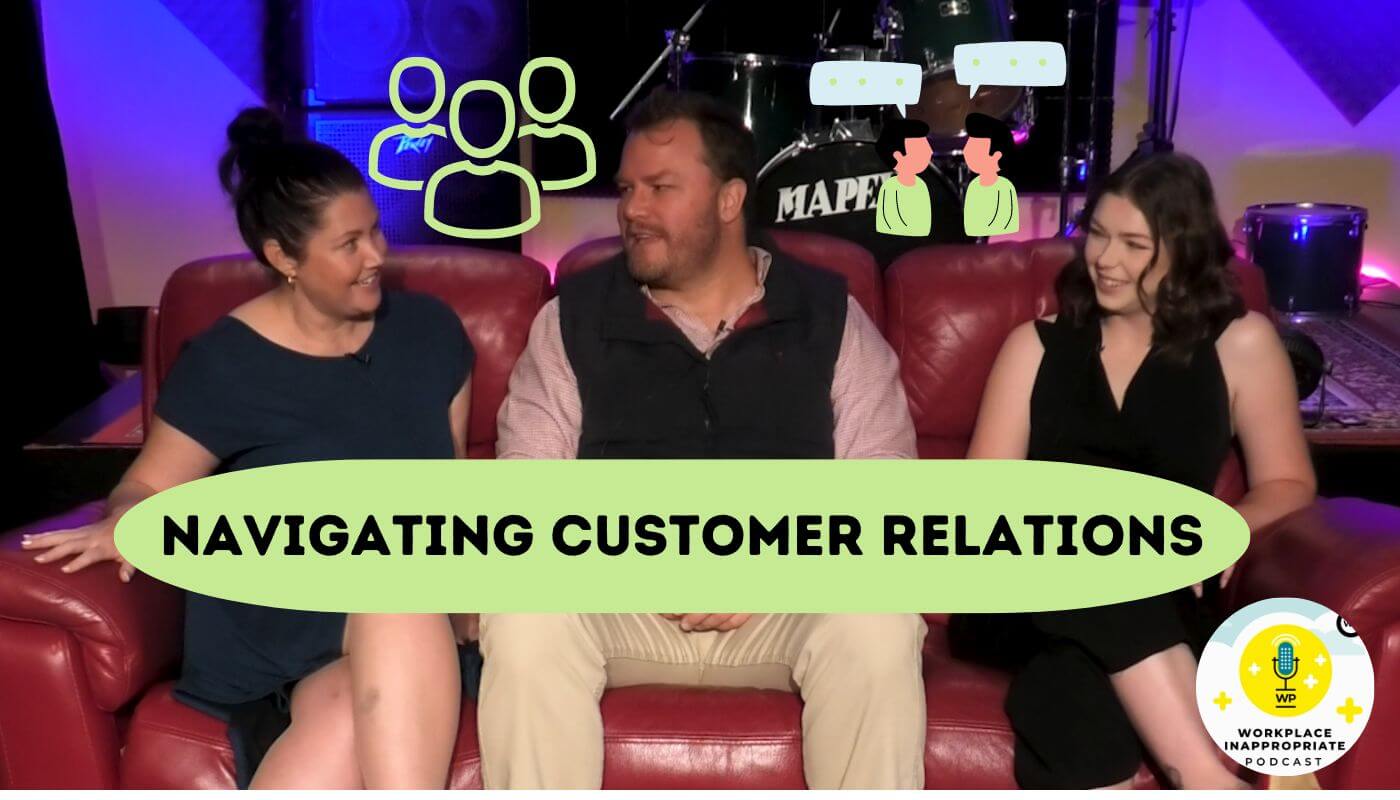 Navigating Customer Relations
Today on Workplace Inappropriate, Kearin, Kate, and Average Joe sit down to talk (and laugh) about the unspoken rules of customer relations. In other words, they're addressing the do's and don'ts of flirting with customers, forming relationships with customers outside of work, and breaching customer privacy by using their contact information without consent.
Navigating Customer Relations
Let's be real… we've probably all had a secret crush on a customer or have wanted to know more about them, but it's how we approach those situations that matters. As a professional, you need to know what behavior is appropriate/inappropriate and where to draw the line with customer relations. If you don't, you might come off as a creepy stalker and get yourself into trouble with HR (or worse) … and no one wants that! So, let's dive into what's workplace inappropriate!
In this episode, they cover:
Is it okay to flirt with people in retail?

Is it okay to use customer details to contact or form a relationship with them outside of work?

What constitutes a breach in customer privacy or an abuse of employee power?

Kearin's experience having a personal relationship with a call center employee.

Tips on how to appropriately interact with customers/employees.

Advice on flirting appropriately with customers/employees.
Let us know… Have you ever had a relationship with a customer outside of work? Do you have a crush on a customer? What's your story? We want to hear from you! DM us on Instagram!
Appropriate Quotes
"I lived in Brisbane and he lived in Melbourne and we just became friends, just by talking on the phone, except that he was being paid to work. People think that's weird!" – Kearin
"This is how romance scams start, kids." – Average Joe
"If you genuinely have an interaction and you want to mate with them, don't look for their phone number from work information. Just have the balls to ask for their phone number." – Kate
Would you like to implement an end-of-year ritual to process the year that was and focus your team to the future?
We can help.
Contact me to discuss ideas that will be suitable for your business.
Kearin Lowry
Meliorist & Director